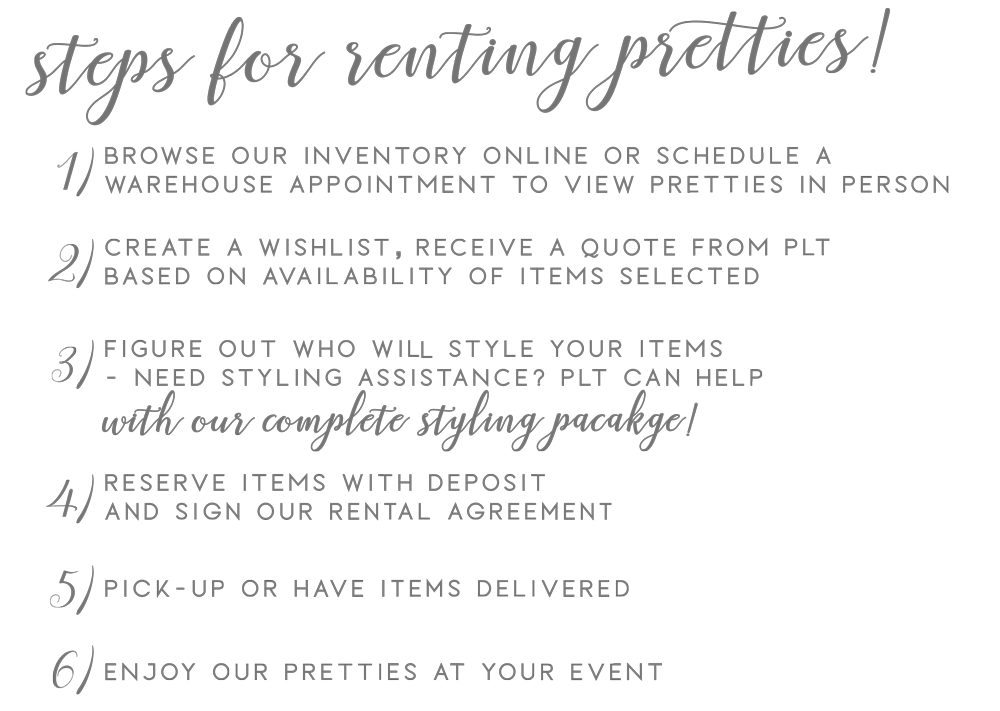 How far in advance should I book the rentals?
We have couples that secure our items up to 18-months in advance and as soon as six-weeks before their event. It all depends on what you're looking to style at your event. Most of our items are one-of-a-kind, so if you have your eye on a specific piece, you can secure it with 50% deposit.
What services do you offer with rentals?
We offer full event styling, along with a la carte, will-call rentals. We also offer delivery and pick-up services. Ask us about our signage design services too!
Do you have minimums?
For weddings, there is a $200 minimum for will-call orders; rentals that you pick-up from the warehouse. Delivery requires a minimum rental order of $300 in the mid-Missouri area and $500 minimum order for venues over 60-miles and $1000 minimum for deliveries 100-miles or more away from our warehouse.
What are your payment options?
We accept online card payments or checks.
How do I reserve items I'm interested in?
Once you have received a quote for your items, you have a 14-day hold period on your rentals to make a decision. To secure for your chosen date, we require a 50% deposit + signed rental agreement.Once deposit is made, rental items will be reserved and remaining balance is due at least 15 days prior to the event. *For short notice events, payment is required in full upon reservation.
After I reserve, am I able to change my order?
You can adjust your reserved order up to one month out from your event. The final payment will reflect any adjustments. After final payment, any adjustments would only allow you to swap things within your order.
What are your delivery fees?
Our delivery fees are based on your event location, size of rented items and amount of loads necessary to accomplish delivery. Begins at $75
*Labor cost for heavy items delivered will require an extra fee. *Special pick-ups on weekends / evening hours will require and extra fee
Can I pick-up my items?
All items have to be picked-up in an appropriate vehicle. Large items may be picked up with an SUV or enclosed trailer. Vehicle must be approved prior to rental pickup. Furniture will require an enclosed, not open trailer.
What if I damage my rental item?
All items should be returned in the condition they were originally found. Customers are responsible for repair/replacement fees to any items damaged during rental. A detailed replacement fee list is available upon request.If the item is beyond repair and needs to be removed from inventory – a value will be assessed for the replacement cost.
What if I need to cancel my rental order?
We honor full refunds if you decide to cancel at least 90-days prior to your event. If within 89-60 days, we retain 50% of the deposit. If within 59-30 days of the event, we retain 100% of the deposit. Cancellations within 29 days of the event Client will be responsible for the full rental and delivery fees. Complete Styling Package cancellations have different term agreements.